Ceratek Laboratory Heat Sealer
Open back frame with upper & lower heated jaws
The jaws are independently controlled, through a digital timer and temperature controller, surface mounted thermocouples, dual action cylinders, electronic timer activation.
12" (TA12-ASL/1) and 24" (TA24-ASL/1) models available.
The standard instrument includes one set of 1" wide flat dies (one upper die and one lower die). Flat surface dies are also available in 1/8", 1/4", 3/8", 1/2", and 1" widths.
Serrated Sealing Dies (1" width only) are available as matched sets for upper and lower jaws, with options for both type and direction of serrations.
Coarse serrations (6.5 serrations/inch)
Fine serrations (20 serrations/inch)
Crosswise (perpendicular to 12" length)
Lengthwise (parallel to 12" length)
Cycle-Hold Mechanism allows the operator to engage a lock, which holds the jaws together at the end of a cycle, for a time until the operator triggers the release switch on the front panel.
Short-Cycle Indicator disables the sealer anytime that a seal cycle is terminated before the entire programmed dwell time has fully elapsed. This lets the operator know that the last item has a potentially inadequate seal.
Temperature Alarm high/low settings with lockout/reset feature.
12" x 12" Removable Work Surface provides an area to prepare the material that is to be heat sealed.
Removable Backstop is mounted to the machine frame which will provide a positive stop behind the seal die. Adjustable Backstop can be permanently mounted inside the machine.
Power options: 110 V, 60 Hz or 220 V (with power convertor)
For further information, please contact our sales team on 01223 492081 or via sales@tendringphysicaltesting.com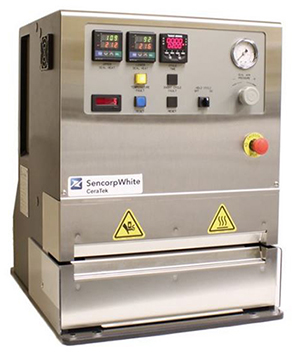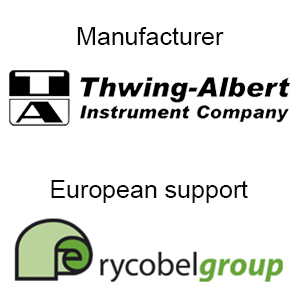 Thwing Albert – Rycobel
Rycobel is the European support centre for several respected instrument manufacturers. We have represented Rycobel in the UK and Ireland since 1997.
Service & Repair  We provide access Rycobel's technical services through regular on-site service tours and a 'return to base' option for repair, service and calibration.
For more information contact us via 01223 492081 or sales@tendringphysicaltesting.com