Box Compression Tester
For compression tests on packing boxes
The Rycolab Box Compression Tester has a high rigidity steel frame, with a four cylindrical columns and low friction linear bearings, guiding the movable plate.
Applicable standards
DIN EN 22872, ISO 12048, TAPPI T804, UNE 57163/5, FEFCO Nº50, AFNOR, H13-001
There are two types of upper movable plate: fix and parallel to the inferior plate and movable with an omni-directional ball, oscillating plate. The force capture system has 3 load cells, situated under the lower plate. The unit is driven by a dc servo-motor and reductor, to achieve stable speeds across the full scale. Testing and approaching speeds are configurable between 1 and 400 mm/min. There is an optical deformation encoder and force readings with a resolution of 0.004 % of the FS, and extension readings with a resolution of 0.01 mm. Accuracy is  +/- 0.5%
Control is through a touch screen and two auxiliary buttons. There is a simple and intuitive control menu, configurable in different languages, with pre-programmed test methods. An RS-232 or USB interface connects the unit to management and control programs. There is an automatic .pdf generator.
There is the option of selecting and defining multiple test results, with two result tables offering a maximum of 10 result types and 20 test results per table. Results can also be displayed graphically and the statistics options include mean value, standard deviation, maximum and minimum values.
Different units are configurable for the force, extension and speed parameters and the user also has control over the setting of the breaking and preload levels.
The Box Compression Tester is CE marked and can be supplied in a range plates sizes and force ranges. Please contact us about your specific requirements and special dimensions.
Test description
The corrugated box or packaging to be tested is centered on the lower plate. When the test begins, the upper plate lowers and a load begins to be applied to the specimen. This force is captured by means of the three load cells located under the lower plate. When the system detects the sample breaking, the upper plate returns to the initial position at maximum speed.
Software control (optional)
Via the RS-232 connection, it is possible to control and manage the test by means of the RYCOLAB software making it possible to preset tests, save test results, graphical curves, carry out test reports, etc.
Connections
Electricity: 110 – 220V, 50-60Hzuages.
For further information, please contact our sales team on 01223 492081 or via sales@tendringphysicaltesting.com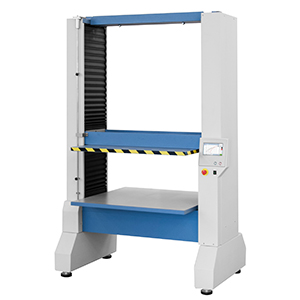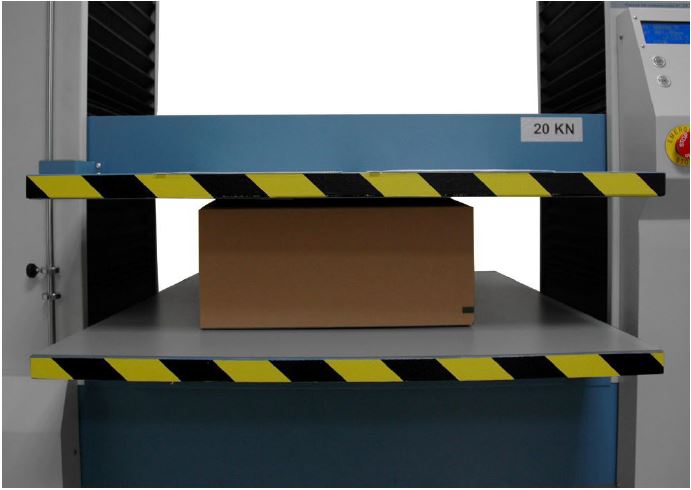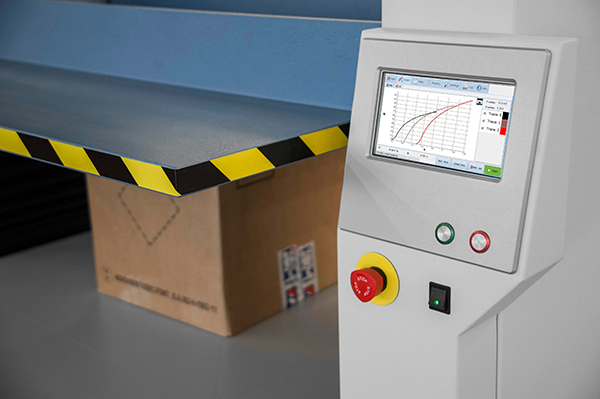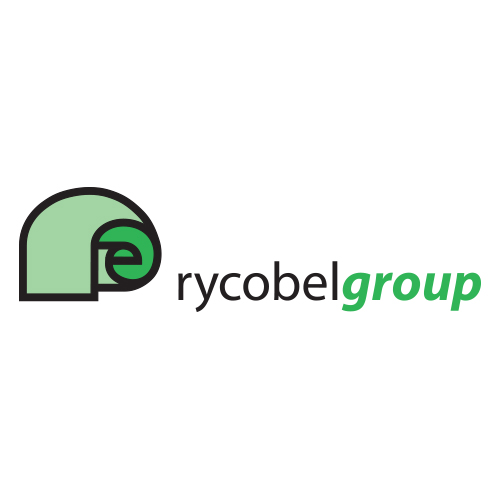 Rycobel
Rycobel is the European hub for several internationally respected manufacturers of physical testing equipment, from pulp evaluation, to strength, tear and compression testing of finshed products. Rycobel also offers its own RYCOLAB labelled series of  instruments.
Their team of manufacturer trained service engineers provide service, calibration and repairs for the complete range of instruments, through return to base, or annual on site service tours, organised by Tendring Physical Testing.