IGT High Speed Inking Unit 4
Ultra-fast inking unit for paste inks
Used with all IGT printability testers to quickly add a highly accurate and well defined ink layer to printing discs. With many modern inks drying very quickly, the IGT High Speed Inking Unit 4 has been developed to offer short inking times.
It has a built-in thermostatic bath, to provide a constant temperature for the distribution of inks and pick test oils, to get a constant viscosity of pick test oil and a constant drying behaviour of inks.
Able to ink up to four printing discs simultaneously. The inking time can be reduced to 15 seconds. The operating temperature of 15 to 45°C is created by the internal thermostatic bath, and the settings via the touch screen.
| | |
| --- | --- |
| For use with all printability testers | Replaces the old AE-inkers for higher repeatability |
| Optimal combination with IGT Amsterdam testers | For conventional and UV offset inks |
| Inking with pick test oils | Temperature controlled inking |
| Short inking times, fast operation | Up to four discs inked at one time |
The IGT High Speed Inking Unit 4 uses two conditioned steel distribution rollers and a rubber top roller, controlled by an internal temperature control unit.
After the unit has distributed the ink evenly, the printing discs are brought in contact with the top roller and inked for the preset time. The printing discs automatically lift from the top roller as soon as the inking time elapses.
There is a transparent top cover and a stainless steel front cover to protect the surroundings and protected by safety switches.
| | |
| --- | --- |
| Inking speed from 0.2 to 1.2 m/s | Distribution times between 5 and 200 seconds |
| Accurate and repeatable inking times | Printing disc inking time from 5 to 200 seconds |
| Printing discs lifted automatically | Computer controlled |
| Top rollers available with 1, 2 or 4 sections | Inking time independent per printing disc |
| Top- and front covers for safe operations | Closed environment during operation |
| | |
| USB port for updates and data recording | CE conformity |
| Emergency stop, cover switches, torque reduction and exhaust | Supplied with an IGT ink pipette |
Information About Cleaning Solvents for IGT Printing Discs and Top Rollers
Click here »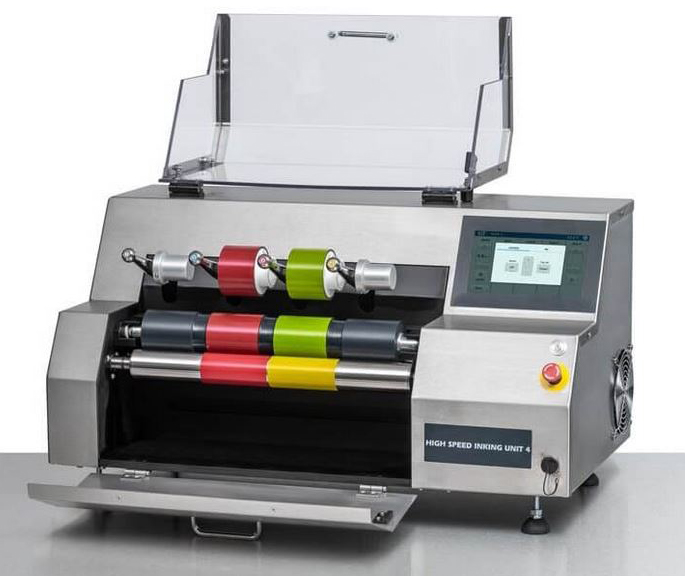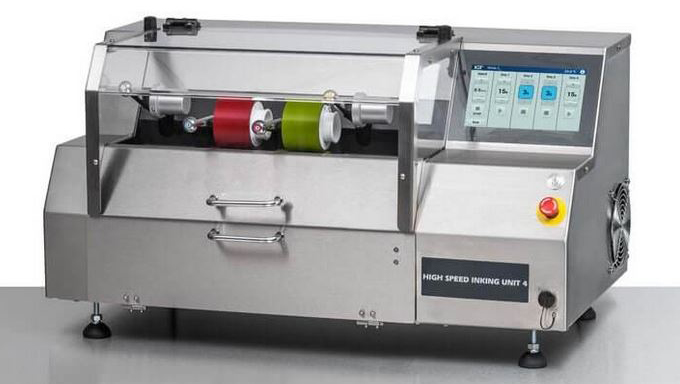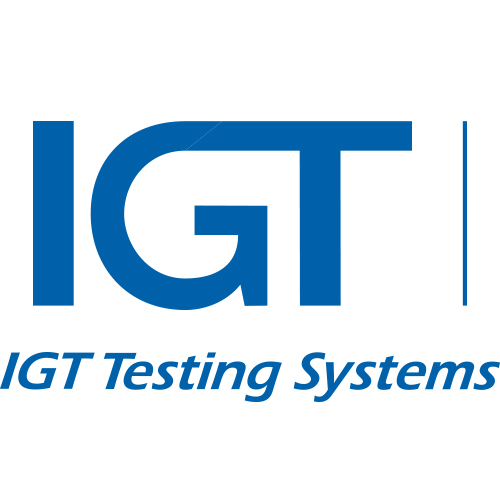 IGT Testing Systems
Printability testing equipment and tack testing instruments for the worldwide paper industry, printing industry, graphical arts, plastics, paints, inks and coatings industry.