Scorebend / Opening Force Tester (PCA)
Measures force to open a carton from flat & stiffness of individual box carton creases/flaps
The Scorebend / Opening Force Tester is a microprocessor controlled testing machine for determining both the force required to open a carton from flat and the stiffness of individual box carton creases/flaps. Manufactured by Thwing Albert, both parameters are critical for ensuring the smooth running of carton erection on folding carton packaging lines. A choice of interchangeable load cells enable small corrugated boxes to also be tested.
As the packaging industry depends more and more on high-speed automation, it is essential to understand how carton materials will behave in production. The Score Bend/Opening Force Tester provides vital information for:
accurately configuring machinery that controls cartons on form, fill and seal lines
analysing carton performance characteristics for development and quality control
evaluating the efficiency of cartons during production runs
Determining the conditions required to guarantee the production of cartons within tolerance can increase both production and efficiency and result in less reworking, rejects and down-time.
The Score Bend/Opening Force Tester determines the force required to fold carton stock along a score and the force necessary to open a carton, a particularly important consideration for the evaluation of spring back after bending, which can affect sealing or gluing operations.
The instrument is easy to use, with bending and opening force, measured in grams, appearing on a clear LED panel. The high-quality construction and sophisticated electronics require minimal maintenance and the precision of the instrument makes it ideal for exacting research and development, and durable for the factory floor.
The front panel provides easy access for configuring test parameters including test mode, force and distance units, sample ID and crosshead return. Statistics for peak force, angle, force and distance traps values are automatically calculated and displayed. Test results and curve data can be output via an RS-232 interface for data collection to a PC or parallel printer.
Standards: TAPPI RC-284, PI 110.10
Measures bending and opening force, stiffness of unscored paperboard, residual spring back force, score ratio of scored or unscored paperboard
| | |
| --- | --- |
| Opening force fixture | Pulling unit |
| Statistics include average, high, low and standard deviation | Measurement capacity up to 10 kg |
| Saves up to 99 test results | Auto-zero and semi-automatic calibration |
| Constant loading rate | Sample ID capability |
| Test result and curve data for PC interface | Automatic stop and return with overload protection |
| | |
| --- | --- |
| Load cell: 500, 2000, 5000 and 10,000g | Force reading accuracy: ± 0.25% of full-scale reading |
| Crosshead speed: 5-500 mm/min | Air pressure requirements: 75 psi/5.2 bar |
| Angle measurement range/reading resolution: between 0° and 90° (selectable in 0.1°)/0.36° or better | Position measurement accuracy: ± 0.1% of full-scale distance |
| Force units/Distance units: g, oz, lb, N, kg/in, cm, mm | Power requirements: 110-120/220-240 V, 50/60 Hz, 33 W (operating) |
| Fuse rating: 6 A @ 110 V, 60 Hz; 3 A @ 220 V, 50 Hz | |
| Sample size opening force/bending force | from 25.4 to 457.2 mm when flat |
| | up to 152.4 mm sample width |
| | up to 6.35 mm sample thickness |
| Safety features | electronic overload protection system |
| | angle over-travel limit switch |
| | load cell incorporates mechanical limit stops |
| | upward and downward motion limit switches |
| | emergency stop button |
| Operating/storage environment | Air temperature 15-25 °C |
| | Relative humidity 20-60% (non-condensing) |
| | |
| --- | --- |
| Pneumatic clamping assembly | Bending fixture for measuring the maximum force required to bend a carton sample up to 90° |
| Printer | COF fixture for measuring static and kinetic coefficient of friction |
| Data-acquisition software for capture of serial data and for transfer to any Windows ® application | Load cell |
Physical specifications
Dimensions 56 x 41 x 122 cm (W x D x H)
Net weight 68 kg
For further information, please contact our sales team on 01223 492081 or via sales@tendringphysicaltesting.com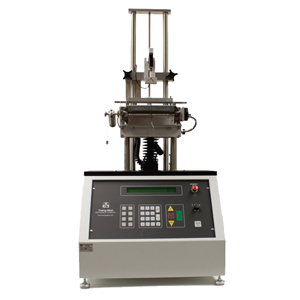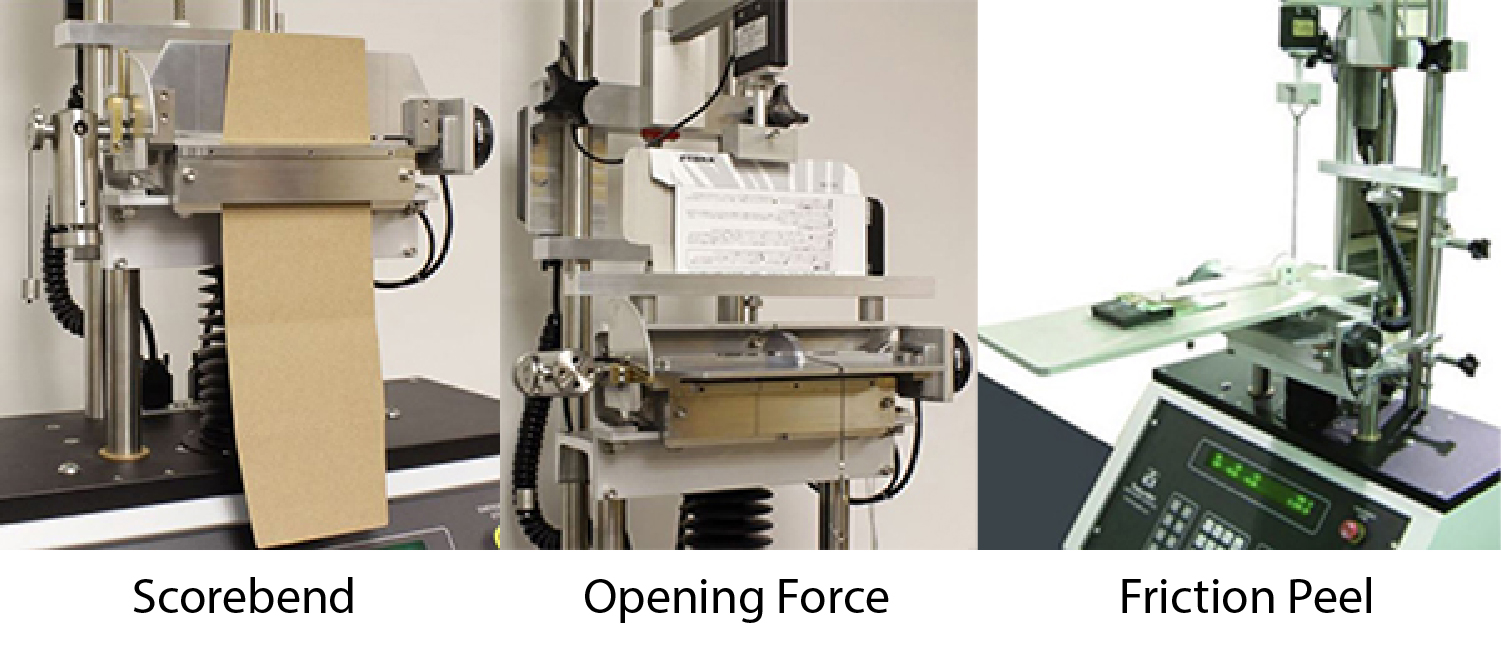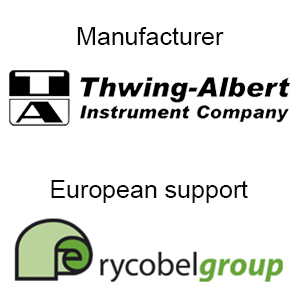 Thwing Albert – Rycobel
Rycobel is the European support centre for several respected instrument manufacturers. We have represented Rycobel in the UK and Ireland since 1997.
Service & Repair  We provide access Rycobel's technical services through regular on-site service tours and a 'return to base' option for repair, service and calibration.
For more information contact us via 01223 492081 or sales@tendringphysicaltesting.com