FP-2260 Friction and Peel Tester
Measures static & kinetic friction of sheet material & calculates the coefficient of friction
Dedicated & microprocessor controlled. Heated bed plate option allows hot slip to be measured. Attachments for performing 90°, 180° and T peel.
The Friction/Peel Tester is an extremely versatile instrument for measuring the static and kinetic coefficient of friction as well as peel properties of paper, paperboard, plastic films, adhesives, labels, textiles, flexible packaging materials, coatings & leather.
The FP-2260 utilizes a new multifunctional keypad which allows the user to easily navigate through the multiple menu options. The crosshead and the load cell are adjustable on the FP-2250 to simplify the change between various test set ups. The new system also features an Auto Return/Stop at the end of the test. Now with improved load cell sensitivity and automatic load cell recognition.
One of the best features of the FP-2260 is the new large front panel display screen. The display is 240mm x 64mm and is designed so that the test results can be easily read by the operator. The memory capacity on the FP-2260 can store 127 individual tests for each mode, COF, Peel and Tensile.
The FP-2260 offers optional accessories to perform low capacity tensile and seal strength tests (up to 10 kg/22 lbs), 90° peel, T-Peel, delamination tests, a sled lifting device to meet ISO 15359, and a Heated Platen for testing at elevated temperatures up to 350°.
The FP-2260 EZ-Sled offers a magnetic closure to secure the sample in place. The sled makes the testing of thin films and papers significantly easier & faster. It's not recommended for use when testing paperboard or thick materials.
Sample Clamps are available for the FP-2260. These vise grips offer a higher capacity of 100N lbf, making it a cost-effective option for tensile, peel and seal strength testing. The grips can be equipped with faces from 25 to 100 millimeters depending on the required industry standards that are to be met. This addition of vise grips creates a solution for customers that need to test at a higher range, but do not have a need for a Universal Testing Machine.
The FP-2260 can transmit raw data and test reports to an external PC via a RS-232 or USB data communication port. We offer MAP-4 software which allows the user to send data to an external PC for additional analysis.
Standards
ASTM D1894, ASTM D4521, ASTM D2534, ASTM D3330, ASTM F88, AFERA: 4001 P11, FINAT: FTM 1-6, 10, 11, ISO 6383, ISO 8295, PSTC, TAPPI T-816, TAPPI T-549, TLMI
| | |
| --- | --- |
| Multifunctional membrane keypad | Adjustable crosshead and load cell (Vertically and Horizontally) |
| Easy to read front display (240mm x 64mm) | Interchangeable 0.5kg, 1kg, 2kg and 10kg load cells |
| Automatic load cell recognition | Automatic Return of the crosshead |
| 14″ of crosshead travel | Store 127 tests each for COF, Peel and Tensile |
| USB and RS-232 Data Communication Port | Available Test Area – 225mm x 350mm |
| Electronic over travel switches | Newly designed sled improves sample preparation |
| Selectable force units – g, kg, lbs, oz, N | Preset Industry Standard Test Method storage |
| Ability to Save Customized Test setups | |
| | |
| --- | --- |
| Measurement | Load Cell Range: 0 .5kg, 1kg, 2kg and 10kg |
| | Force Resolution: 0.1g for all load cells |
| | Force Accuracy: 10%-100% of the load cell capacity – 0.25% of the measured value. Less than 10% of load cell capacity 0 0.025% |
| | Force Units: Grams, Kilograms, Ounces, Pounds and Newtons |
| Travel Speed | Standard Speed: 25.4 mm to 508mm/min |
| | High Speed: 254 x 2,794 mm/min |
| Travel Distance | 0.1 to 14.0 in (0.3 to 38 cm) |
| Operating/Storage Environment | Air Temperature Operating: 10° to 50° C Storage: -25° to 70° C |
| | Relative Humidity Operating: 10% to 85% (Non-Condensing) Storage: 5% to 90% (Non-Condensing) |
| Standard COF Sleds | 200gm, 500gm, 1000gm and 3lbs (other sleds are available. Software accepts variable sled weights) |
| Dimensions of Sleds | (2 ½" x 2 ½") and (2 ½ x 4") |
| Test Times | 0.1 to 99 seconds – variable for COF and Peel |
| Test Result Readouts | Tensile & Seal: Peak |
| | Peel: average, high, low, standard deviation |
| | COF: static, kinetic, slide angle, standard deviation of Kinetic data |
| | |
| --- | --- |
| Complies to industry standards for tensile, peel, and coefficient of friction testing | Intuitive menu design which provides more results with fewer key strokes |
| Ability to create, save and password protect test setups | Memory capacity on the FP-2260 can store 128 individual tests for COF, Peel, or Tensile |
| Very high sampling rate up to 20 times per second with Map-4 software | MAP4 software allows users to instantly view and analyse test data |
| Many optional accessories and fixtures are available to perform a variety of peel, COF, seal tests and tensile tests | Automatic load cell capacity recognition |
| Increased load cell stability | |
| | |
| --- | --- |
| Low capacity tensile – manual and air operated grips for seal and tensile tests – This sample clamp assembly is ideal for thin-sheeted materials | Standard and Custom COF sleds – The FP-2260 is equipped with spring clip assembly for thick or thin samples |
| 90°/180° peel fixture – The 180 degree peel arm for peel testing is included with all FP-2266 units | T-peel fixture – The T-peel fixture maintains a 90 degree angle for the tail during a peel test |
| Tray peel fixture | Delamination test fixtures |
| Heated Platen for testing at elevated temperatures up to 350° F – The COF Sled shown with Spring Clamp on the FP-2260 Heated Platen Fixture with Temperature Range 21°C to 204°C | |
Physical specifications
Dimensions: 685.8 mm x 304.8 mm x 177.8 mm (L x W x H)
Shipping dimensions: 838.2 mm x 609.6 mm x 355.6 mm (L x W x H)
Net Weight: 20 kg
Gross Weight: 23.6 kg
For further information, please contact our sales team on 01223 492081 or via sales@tendringphysicaltesting.com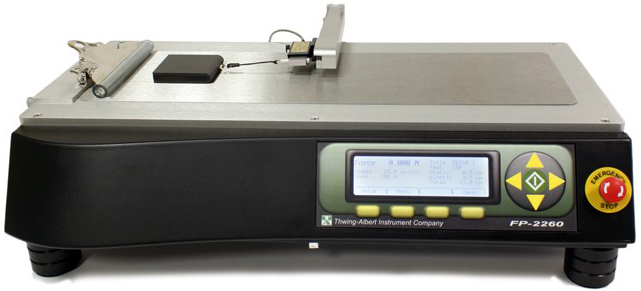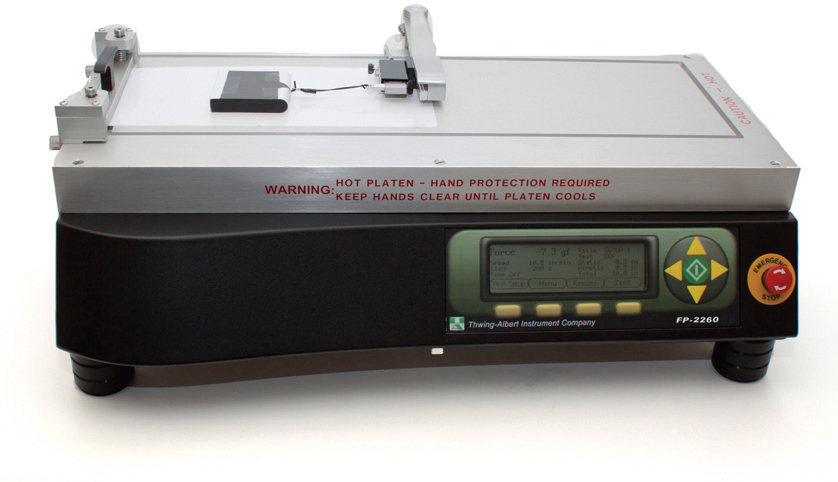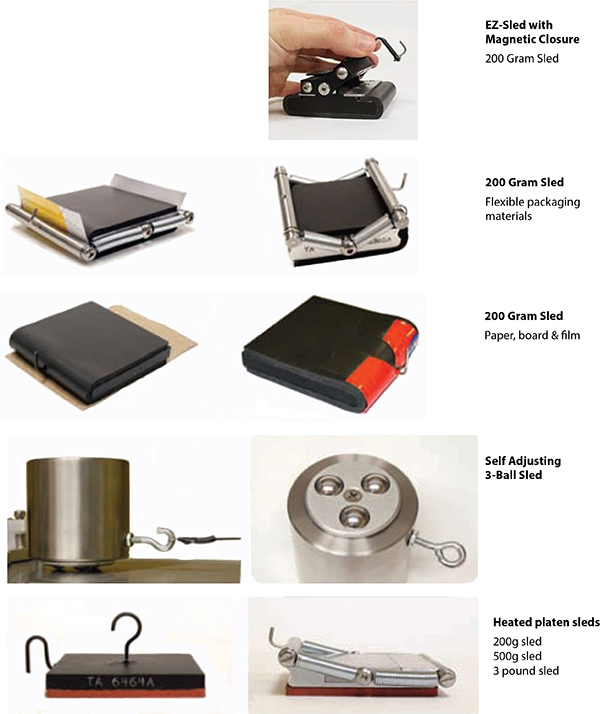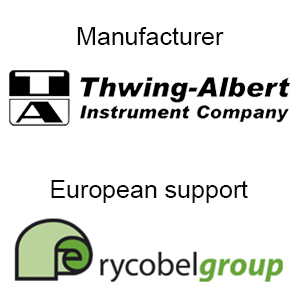 Thwing Albert – Rycobel
Rycobel is the European support centre for several respected instrument manufacturers. We have represented Rycobel in the UK and Ireland since 1997.
Service & Repair  We provide access Rycobel's technical services through regular on-site service tours and a 'return to base' option for repair, service and calibration.
For more information contact us via 01223 492081 or sales@tendringphysicaltesting.com