Taber Quiet Cabinet
For use with single head Taber Rotary Abrasers and either model 155 or 255 Grit Feeder
The typical sound level of operating a Taber Rotary Abraser and its vacuum system can reach 78dB. The Quiet Cabinet reduces this level by up to 20%, through the use of sound deadening materials. The resultant noise level is comparable to a standard office environment, and enables a normal conversation to be conducted in the vicinity of the testing.
Designed for optimal performance
The upper cabinet features a hinged Plexiglas viewing window to monitor testing. A detachable front permits easy transfer of the Abraser into or out of the cabinet. Side vacuum hose openings (left or right) allow the top to also be used as a standalone cabinet.
The lower cabinet holds the Taber Abraser Vacuum unit and includes a built-in exhaust system for appropriate air circulation. There is also ample room for the storage of test specimens, supplies, and accessories.
Built for laboratory or production settings
The Quiet Cabinet provides a convenient and aesthetic, dust-free workspace for the Taber Abraser. Solid wooden construction, with a high-pressure laminate outer shell for added durability.
Special top enclosure for Grit Feeder Attachment
To accommodate the grit feeder, a large top enclosure is available.
Intended for single head Taber Rotary Abrasers and either model 155 or 255 Grit Feeder, the cabinet is 82.5 cm (32.5") in height and features two hinged viewing doors.
| Part No | Description |
| --- | --- |
| 128372 | Quiet Cabinet – complete set (115V, 60 Hz) |
| 129372 | Quiet Cabinet – complete set (230V, 50Hz) |
| 128370 | Quiet Cabinet – top |
| 133439-1 | Quiet Cabinet – large top, for use with Grit Feeder Attachment |
| 128371 | Quiet Cabinet – bottom (115V, 60Hz) |
| 129498 | Quiet Cabinet – bottom (230V, 50Hz) |
For further information, please contact our sales team on 01223 492081 or via sales@tendringphysicaltesting.com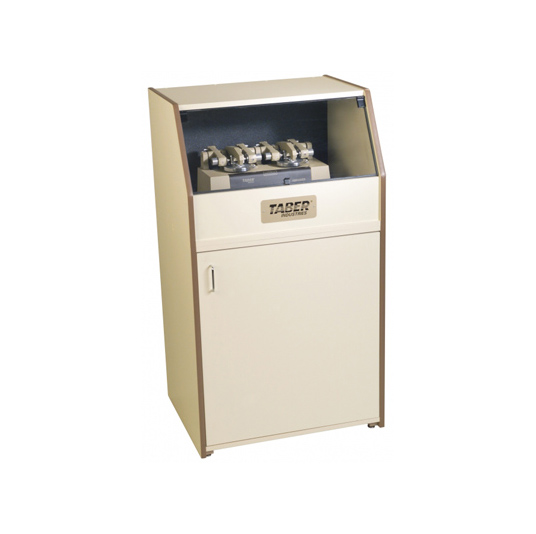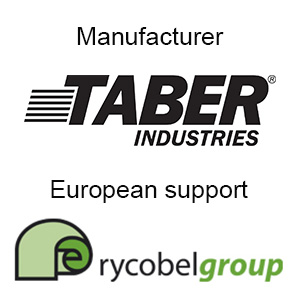 Taber – Rycobel
A global leader in the design and manufacture of high quality, affordable test instruments. Used to evaluate the physical properties of materials, particulalry in the test of the durability of their products.
Best known for their expertise in bending resistance and stiffness, abrasion, surface wear, scratch, mar and scuff damage.