IGT Tack Tester
Measures the tack of offset printing inks and other liquids
Thermostatically controlled with variable speed control, giving very repeatable and reproducible results.
IGT Tack Tester 450 has been designed for intensive daily use and consistently and efficiently to measure the tack of printing inks and other liquids. It offers a high level of accuracy, low maintenance and simple operation.
Applications
Tack values are used by ink manufacturers to ensure the quality of inks both in production and in research and development. It is also invaluable to suppliers of raw materials for ensuring the quality of products prior to distribution.
Tack values can now be reliably exchanged between facilities to ensure a homogeneous quality. Vital for ink manufacturers, researchers, suppliers of raw materials and printers, the Tack Tester 450 will be of particular interest to companies that operate from multiple sites and in several countries.
Features
Microprocessor controlled
Self calibration
Ink distribution time, speed and the time to measure the tack can be set via the control panel.
Digital display of tack, speed and temperature
Temperature controlled central cylinder from external water bath
Rubber rollers for conventional or UV-curing inks available
Special measuring cell with very high accuracy to record tack values
Rigid stainless steel construction for use in a production environment
Operation
The IGT Tack Tester 450 consists of a temperature controlled central cylinder, a distribution cylinder and a cylinder to measure the tack value. When the test conditions have been set, ink is applied to the distribution cylinder via an IGT ink pipette. Tack values are measured and displayed on the control panel as individual tack measurements per time unit. The peak tack value measured within the measurement period is also shown.
The control panel also displays the tack measurement history and indicates the highest tack value with the corresponding time, temperature and speed. With the data processing option, the results can also be transferred to remote computers in different locations for further calculation and graphical presentation.
Technical data
Temperature control of the central cylinder 15-45 °C Variable speed control 50-450 m/min
Physical specifications
Net weight ± 50 kg
Shipping weight ± 65 kg
Dimensions – 500 x 300 x 600 mm (W x D x H)
Power requirements – 115/230 V, 50/60 Hz
Options
The IGT ink pipette is recommended for applying ink to the top roller. This significantly increases the accuracy of the ink application and the results of the tests. The IGT ink pipette HR is available for even greater accuracy.
Computer data transfer analysis including graphical presentation.
For further information, please contact our sales team on 01223 492081 or via sales@tendringphysicaltesting.com
Information About Cleaning Solvents for IGT Printing Discs and Top Rollers
Click here »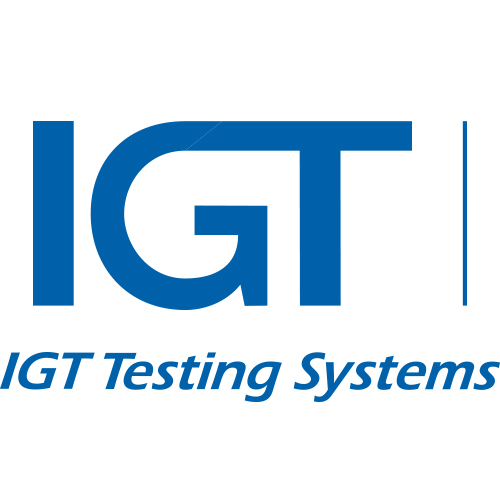 IGT Testing Systems
Printability testing equipment and tack testing instruments for the worldwide paper industry, printing industry, graphical arts, plastics, paints, inks and coatings industry.