ProTear Elmendorf Electronic Tear Tester
A rapid and precise way to evaluate the tear resistance of sheet materials
Ideal for paper, textiles, roofing products, plastic film, and foils.
There are three ProTear models to choose from – Mechanical, Electronic and Heavy Duty with a total capacity range from 200 – 25,600 grams.
ProTear Elmendorf Electronic Tear Tester has a new touch-screen, for running the tests and tracking the data. There are two different pendulums, plus additional augmenting weights, offering several capacity configurations.
Features of the Electronic ProTear:
Touch-screen menu
Optional automatic pendulum return
Toolless, easy mount pendulums and augmenting weights
One-touch pneumatic clamping and pendulum release
Electronic levelling sensor, for accurate setup
Configurable display, for results and reporting
Multi-port connections, for data export
Compatible with MAP4 Software, for advanced analysis
Standards ASTM D295, D752, D4247, D1424, D1922, D5734, TAPPI T414, T496
BS 2782, 4253, 4468, CPPA D.9, DIN 53862, 53128, ISO 1974,6383-2, 9290, EN21974, SCAN P11
Operation and Functionality
The sample is secured in the clamps. An initial tear is made with the attached blade and the pendulum released. The tearing resistance of the material is measured through the transference of the potential energy stored in the raised pendulum, to kinetic energy.
A portion of the energy is absorbed during the tearing of the sample and is used as a measure of the material's resistance to a continuing tear. The energy required to tear the sample is recorded as a percentage of the pendulum capacity, or force.
The Electronic ProTear calculates test results and statistics automatically and displays them immediately. Data can be exported to a PC and directly printed. Alternatively they can be further analysed using MAP4 Materials Testing Software.
Easy-mount technology for the pendulum installation does not require tools, which enables the capacity to be changed quickly
Testing capacity ranges from 200g – 12,800g allowing for a variety of applications with one machine
Touch-screen display allows for quick clamping and testing
Precision and accuracy of the test are increased by capturing data digitally in real-time
Units of measurement preferences can be set on screen
Functions include data entry of sample information, sample ID, thickness, basis weight, sample direction, number of plies being torn
Test results include tear strength, tear per ply, average tear strength and tear index
Quickly enter sample data – thickness, basis weight, sample ID, sample direction
Obtain results as percent of pendulum capacity, grams, pounds or millinewtons
Calculated statistics – average, high, low, standard deviation, range & variance
Configurable results and reports.
| Capacity | 200, 400, 800, 1600, 3200, 6400, 12,800 gsm |
| --- | --- |
| Accuracy | ± 0.2% of pendulum capacity |
| Statistical analysis | Mean value, standard deviation, highest, lowest values, variance |
| Specimen clamp | Pneumatic |
| Pendulum release | Pneumatic |
| Power supply | 120 - 230 VAC; 50/60 Hz; 18A |
| Air temperature | Operating 10 to 50 °C. Storage -25 to 70 °C |
| --- | --- |
| Relative humidity | Operating 10-85% (non-condensing) Storage 5-90% (non-condensing) |
New Optional Feature
From July 2021 they is a new, optional feature, which enhances the capability of the instrument, by automatically returning the pendulum to the start position after a test is complete. It removes the need for the operator to catch the pendulum on its backswing and to manually reset. The new feature also reduces the chance of injury and fatigue, especially when carrying out a large amout of testing.
Physical specifications:
584 x 483 x 406 mm; Net weight 16.8 kg
For further information, please contact our sales team on 01223 492081 or via sales@tendringphysicaltesting.com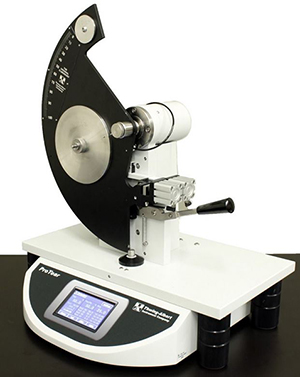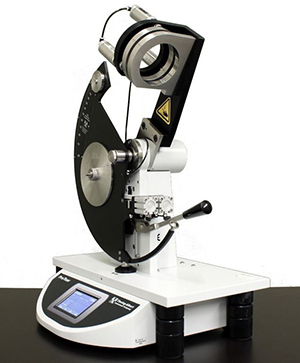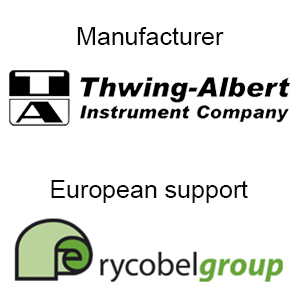 Thwing Albert – Rycobel
Rycobel is the European support centre for several respected instrument manufacturers. We have represented Rycobel in the UK and Ireland since 1997.
Service & Repair  We provide access Rycobel's technical services through regular on-site service tours and a 'return to base' option for repair, service and calibration.
For more information contact us via 01223 492081 or sales@tendringphysicaltesting.com