Rycolab Bending Resistance Tester
Determines Bending Resistance & Stiffness of Paper & Board
The Rycolab Bending Stiffness Tester is controlled and configured via a large touch screen + auxiliary Test Button. Operation is easy, with an intuitive control menu, configurable in different languages.
The unit can be supplied with either manual, or pneumatic sample clamps and includes a verification kit (weight + support) and a sample template 38×80 mm.
Results are presented in two tables, with a maximum of 20 test results. One table shows the results from the Machine Direction and other from the Cross Direction. The test results can also be displayed graphically, and a statistics function displays max, min and mean values, average, standard deviation and the ratio of MC/CD.
Tests include: Bending Resistance – bending resistance index results; Fatigue – strength of split and split recovery; Creaseability – BS, Slop, B. Moment.
| | |
| --- | --- |
| Bending stiffness | Taber Measurement Units |
| Slop | Max bending moment |
| Bending moment on relaxation | Bending moment at 90° |
| Angle at max bending moment | Angle at zero-moment on return movement |
| Bending work (area under the curve) | |
| | |
| --- | --- |
| Test length from 0,1 to 50 mm | Test speed from 0,1 to 50º/s |
| Pre-settable bending angle (0.1 to 90 degrees) | 2 tests & 2 measurement angles |
| Load cell 10N | Range 0 -10000mN |
| Accruracy ±2% (up to 100 mN) and ±5% rest of range | 270 x 500 x 270mm (WxLxH) |
| Weight: 15 kg | 110V-230V, 50-60Hz (40W) |
| Air supply: Max 6 Bar (Pneumatic model) | |
Related Standards: ISO 2493, SCAN P29, DIN 53121, BS 3748, TAPPI T556, NFQ 03- 048, IS 3748
Test Operation: Bending resistance in paper and board is a property dependant on the characteristics of the sheet, the basic properties of the fibres, the making process, the bulk and grammage of finished sheet.
After setting the test conditions and pressing the start button, the sample-holder moves automatically to the preselected angle-position and the curve with the determined values is indicated on the large touch screen.
The test starts automatically when the load-cell touches the sample.The pre-load is selectable, as is the holding time before the second measurement is taken. The holding time is particulalry useful when testing label-paper for the, bending-resistance of wet samples. Post test, the sample holder returns to the starting position and the sample can be removed.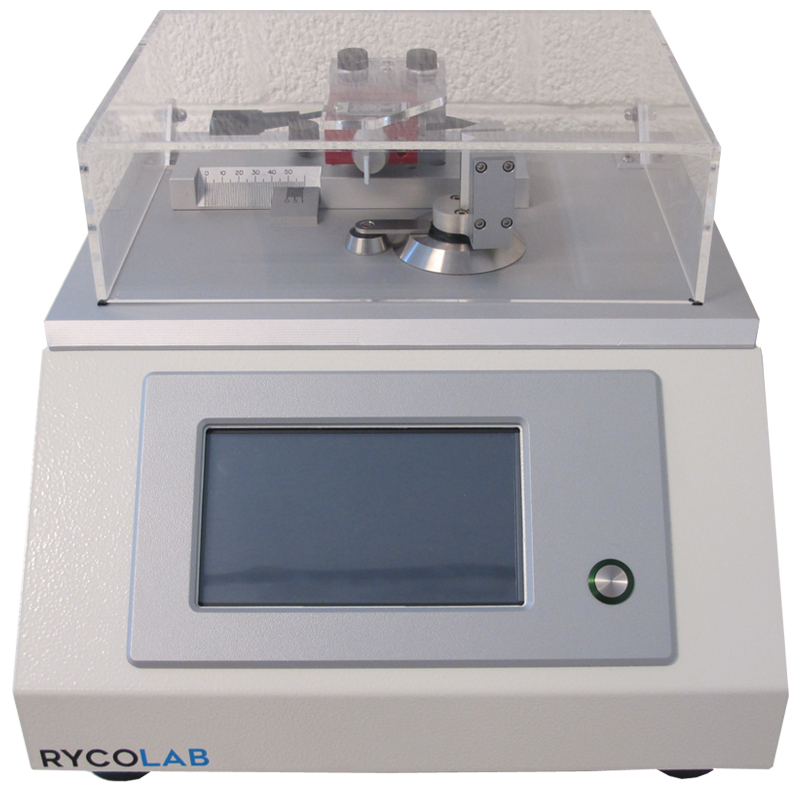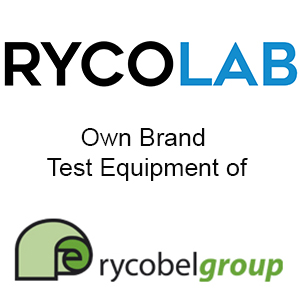 Rycolab – Rycobel
Rycobel's own label range of high quality test instruments.
We have represented Rycobel in the UK and Ireland since 1995.
Service & Repair - we provide access to Rycobel's technical services through regular on-site service tours and a 'return to base' option for repair, service and calibration.
For more information, contact us via 01223 492081, or sales@tendringphysicaltesting.com