Rycolab Pneumatic Schopper Riegler Freeness Tester
For determining the degree of beating of a pulp suspension in water and expressing it in terms of the Schooper-Riegler (SR) number and to determine the de-watering time.
Applicable standards
ISO 5267-1 / SCAN C 19M3 / BS 6035/1
Device description
The Schopper-Riegler test is designed to provide a measure of the rate at which a dilute suspension of pulp can be dewatered.
The drainability relates to the surface condition and swelling of the fibres and constitutes a useful indication of the amount of mechanical treatment the pulp has been subjected to. The principle, the process can be applied to all kinds of pulp in aqueous suspension. However, in practice, the Schopper-Riegler test only provides acceptable results if a sufficiently dense mat of fibres is formed on the wire screen.
For this reason, the test is not recommended for some extremely short-fibred pulps, such as those from well-beaten hardwoods, as most of the fibres will pass through the wire screen, resulting in anomalous reduction of the SR number.
The most reliable results are obtained within the range of 10 to 90 SR number. The results of this test do not, however, necessarily correlate with the drainage behaviour of pulp material on a commercial paper machine.
Connections: Air supply: 400-600 kPa
Weight and dimensions: 360 x 330 x 850 mm / 38 kg
For further information, please contact our sales team on 01223 492081 or via sales@tendringphysicaltesting.com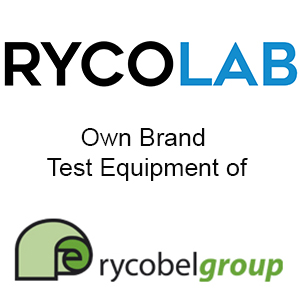 Rycolab – Rycobel
Rycobel's own label range of high quality test instruments.
We have represented Rycobel in the UK and Ireland since 1995.
Service & Repair - we provide access to Rycobel's technical services through regular on-site service tours and a 'return to base' option for repair, service and calibration.
For more information, contact us via 01223 492081, or sales@tendringphysicaltesting.com