Tissue Burst Tester
Tissue Burst Fixture: 25 N (5.6 lbf)
A pneumatic clamp eliminates sample slippage and ensures rapid test set-up. An opening of 50.8 mm provides ample spare for loading the samples. An optional foot switch provides hands-free operation.
It can be used for wet or dry burst testing. Complies with ASTM D-6548-00, ISO 12625-9:2004, ISO 12625-11 and TAPPI T-570-00
Thwing-Albert was instrumental in developing the Tissue Ball Burst method. Their Tissue Burst Tester is a precision, PC-controlled instrument that measures the wet and dry burst strength properties of tissue papers and tissue products, paper towels, nonwovens and other substrates.
Dry Burst Strength is useful to determine strength required to avoid breaks or tears during manufacturing or converting.
Wet Burst Strength is a critical property as tissue and paper towel products are subject to aqueous fl uid during normal use.
The test uses the MAP4 Materials Testing Software. Test settings are easily created. Test results can be printed and stored on a PC.
Standard results provided include burst strength, burst displacement, burst energy, total burst energy and statistics.
User-friendly, pneumatic clamp allows safe and quick test set-up. Removes the possibility of sample slippage & operator fatigue.
| Operating System Windows 7, 8, and 1 | x1 USB Interface to a PC |
| --- | --- |
| Serial Load Cell Interface | Pneumatic Clamp Provides Secure Hold |
| Automatic Electronic Calibration | Semi-Automatic Calibration |
| Movable Test Control Panel | Side Electronics Panel for Easy Serviceability |
| Push-Button Auto Zero | optional foot switch fo hands-free operation |
| | |
For further information, please contact our sales team on 01223 492081 or via sales@tendringphysicaltesting.com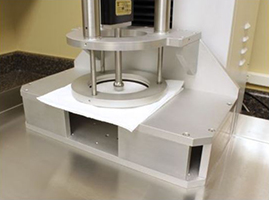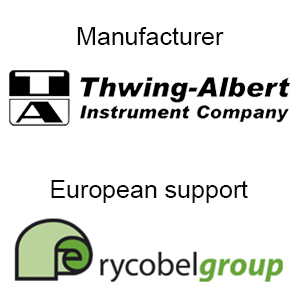 Thwing Albert – Rycobel
Rycobel is the European support centre for several respected instrument manufacturers. We have represented Rycobel in the UK and Ireland since 1997.
Service & Repair  We provide access Rycobel's technical services through regular on-site service tours and a 'return to base' option for repair, service and calibration.
For more information contact us via 01223 492081 or sales@tendringphysicaltesting.com