Data Acquisition Software
Designed specifically for use with the ProGage Micrometer and ProTear Elmendorf Tester
DAS is an optional software package enabling the user to collect test data and perform additional statistical analysis. Windows® 7 based, DAS enables the user to plot results, generate semi-customised reports and export test data.
Test results are immediately displayed on the computer screen, plotted on a real-time graph and included in the statistical calculations. These can be saved to a file which can be recalled later to continue adding test data, or for reference purposes. Each file stores up to 1000 test results. Information can also be saved as an Excel file via user friendly drop-down menus.
The current version of DAS can be used with both Thwing-Albert's ProGage Thickness Tester and the ProTear Elmendorf Tester. Older versions of the Progage & Protear & the 89-100 thickness tester can be upgraded to run this latest version of DAS.
When used with the ProGage Thickness Tester, DAS enables the user to define a multiple number of tests to be performed before automatically stopping.
Customize reports and desktop view
User-defined labels and report headers makes it easy to customize the desktop view and reports for specific applications. The real-time graph can be displayed as either a bar or line chart and all tests results within the pre-determined test limits will appear green while results that are outside the limits will appear red. Upper and lower limits of result value are user defined and easily modified.
Depending on specific test parameters, a warning will appear after a predetermined number of tests have resulted in values outside of the limits, thereby flagging unusual tests
For further information, please contact our sales team on 01223 492081 or via sales@tendringphysicaltesting.com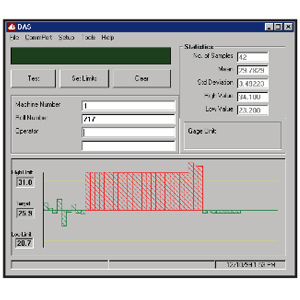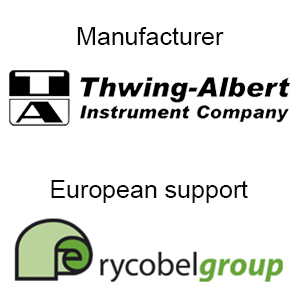 Thwing Albert – Rycobel
Rycobel is the European support centre for several respected instrument manufacturers. We have represented Rycobel in the UK and Ireland since 1997.
Service & Repair  We provide access Rycobel's technical services through regular on-site service tours and a 'return to base' option for repair, service and calibration.
For more information contact us via 01223 492081 or sales@tendringphysicaltesting.com