IGT G1 Gravure Proofer – G1-5, G1-7
Dedicated unit with large selection of anilox rollers, for a range of ink film thickness
Easy and repeatable proofing of gravure printing inks to give a consistent ink film thickness. Quick and easy to clean.
Specially designed for computerised colour measuring and colour matching systems, they are simple to operate, reliable and sturdily built for intensive use over a long period. The G1-5 and G1-7 offer excellent reproducibility and are easy and quick to clean. IGT consumables available.
Applications
The G1-5 and G1-7 testers can print on a variety of coated and uncoated materials including paper, board, plastic film, cellophane, laminate, labels and textiles. They are used regularly in the printing ink, paper and board, printing, plastics, packaging, corrugated board and labelling, resin, lacquer and coatings industries.
Features
A range of printing discs available with different designs
Two printing widths (G1 50 mm, G1-7 70 mm)
Substrates of up to 4 mm can be printed
Adjustable printing speeds and printing force
Operation
The G1-5 and G 1-7 printability testers consist of an exchangeable engraved printing disc, a doctor blade and an impression cylinder. Ink is applied with a disposable pipette between the doctor blade and the printing disc and after the image is printed, the doctor blade and the printing disc are lifted automatically.
The printing speed can be adjusted in five steps and two consecutive prints are made automatically. The second print is the one used for evaluation as it is the most consistent.
| | |
| --- | --- |
| Printing width | G1-5 50 mm; G1-7 70 mm |
| Printing length | 2 x 200 mm (approximately) |
| Screen ruling | 40-80 l/cm (100-200 l/in) |
| Volume | 4-28 ml/m2 |
| Doctor blade angle | 60°, trailing |
| Doctor blade pressure | 6-7 N |
| Printing speed 0.2-1.0 m/s, adjustable in five steps | Printing force 100-1000 N in 19 steps |
| Printing form automatically brought under pressure, printed and lifted | Doctor blade automatically placed against printing form and lifted |
| Maximum substrate thickness 4 mm | |
| | |
| --- | --- |
| single engraving over the full surface | four different volumes in one print |
| a combination of different volumes in rectangular blocks | a 5-100% wedge |
| | |
Physical specifications
Power: 115/230 V, 50/60 Hz
Weight – 35 kg
Dimensions – 650 x 400 x 300 mm (W x D x H)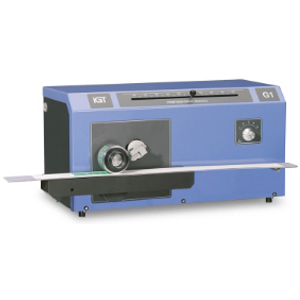 Information About Cleaning Solvents for IGT Printing Discs and Top Rollers
Click here »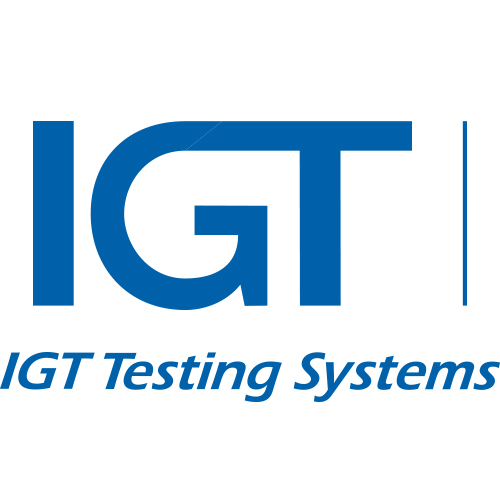 IGT Testing Systems
Printability testing equipment and tack testing instruments for the worldwide paper industry, printing industry, graphical arts, plastics, paints, inks and coatings industry.