IGT Orange Proofer for Offset & UV Flexo
Produces consistent lay downs of offset printing inks for colour assessment
Self contained, low cost efficient unit for checking the colour of offset inks. Incorporates a litho inking and offset printing section. Excellent for making lay downs of UV Flexo ink.
A standard, maximum printing area of 50mm, the IGT Orange Proofer can be used on a variety of substrates including paper, board, plastic, film, cellophane, laminate, metals etc.
Ideal for ad-hoc, lower volume users. For more frequent usage, the IGT C1 may be more relevant.
In addition to the Standard Unit, the IGT Orange Proofer is available as:
Applications
The IGT Orange Proofer:
makes colour strips of offset inks with a known ink layer thickness
gives a high degree of simulation to on-press performance for print quality mottle and set-off
is specifically designed for computerised colour measuring, spectrophotometers, colour matching systems and visual appraisal
takes density measurements including establishing colour density tolerances and determination of coverage, wear resistance, scratch resistance, flexibility, adhesion and gloss, ink transfer (g/m2), light fastness and resistance to chemicals
is used in the printing ink, paper and board, print, metal, plastics and packaging, resin, lacquer, coatings and raw materials industries
Features
Inking and printing on a single application
Reliable, repeatable and reproducible results
Inking unit with two aluminium drums and top roller for conventional inks
Complies with CE standards
IGT Orange Proofer – Operation
The IGT Orange Proofer consists of an inking section and a printing unit. Ink is applied to the top roller of the inking section and distributed within 30 seconds. The printing disc is then positioned on the top roller and, after 15 seconds of inking-in, is placed on the printing shaft. The test material is attached to the substrate carrier and placed underneath the shaft of the printing disc. The print is made automatically after the printing force has been applied.
Range of discs available:
for UV inks, disc with rubber or a rubber blanket
for conventional inks, disc with coated rubber or a rubber blanket
Option
The IGT ink pipette is recommended for applying ink to the top roller.
This significantly increases the accuracy of the ink application and the results of the tests.
| Inking section | Printing section |
| --- | --- |
| Two aluminium drums with top roller | Printing speed 0.3 m/s |
| One aluminium drum driven | Printing force 100-800 N |
| Top roller – elastomer for conventional inks | Printing length 200 mm |
| rubber for UV-curing inks | Printing width 50 mm |
| Short inking time: inking 30s & printing disc 15s | Maximum substrate thickness 4 mm |
| Easy to clean | Independent drive |
| | Discs – printing width 35, 50 mm |
| | |
| --- | --- |
| Weight | 25 kg |
| Dimensions | 620 x 350 x 320 mm (W x D x H) |
| Power | 115/230 V, 50/60 Hz |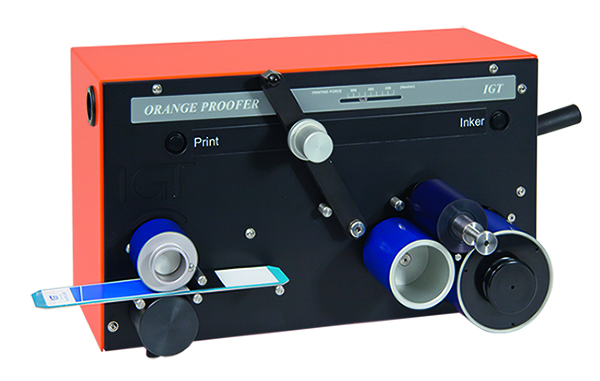 Information About Cleaning Solvents for IGT Printing Discs and Top Rollers
Click here »