IGT C1 Printability Tester Range
Makes colour strips with offset inks with a known ink layer thickness
Designed for intensive use over long periods. Sturdily built and simple to operate. Specially designed for computerised colour measuring and colour matching systems. Saves costs, by making colour tests on the printing presses no longer necessary.
Colour Proofing  The IGT C1 proofer range is a reliable and internationally respected proofer, with printing width options of:
IGT C1x3 – max 35mm for single prints and 15mm for multiple prints on one substrate
IGT C1-5 – max 50mm for single prints
IGT C1-7 – max 70mm for single prints
IGT C1-V – max 50mm + variable speed 0.2, 0.4, 0.6, 0.8 or 1.0 m/s
IGT CTx3 – max 35mm for single prints and 15mm for multiple prints on one substrate
IGT CG1 – 50 mm printing disc to produce colour prints and to cover with lacquer, or varnish
The printing force can be set in 19 steps between 100 and 1000 N.
Printing on Cans and Tubes  Adapters are available for printing directly onto metal cans, or tubes, and the specialised IGT CTx3 proofer is specifically for printing onto tubes, or cans, with an inner diameter between 16 – 68 mm.
Printing Lacquer and Varnish  With the IGT CG1 printability tester it is possible to ovelay an already printed strip with a lacquer of low viscosity.
Applications The colour strips produced by the IGT C1 series are suitable for many purposes:
Measuring colour with colour measuring systems/spectrophotometers e.g. in colour matching
Visual appraisal
Density measurements, including establishing colour and density tolerances and determination of coverage, wear resistance, scratch resistance, flexibility, adhesion and gloss, ink transfer (in g/m²), light fastness and resistance to chemicals
Testing printing quality, gloss, mottle and set-off.
Ideal for all kinds of coated and uncoated materials such as paper, board, plastic film, cellophane, laminate, metal etc. Used in a wide range of industries, including printing ink, paper & board, printers, metal, plastics, packaging, resins, lacquers, coatings and raw materials
Operation
The IGT C1 printability testers consist of
an inking section – two aluminium drums and a top roller
a printing section with removable printing disc (printing form)
The distribution of the ink only takes 30 seconds, due to the diameter ratio and the drum movement. The inking time of the printing disc is 15 seconds. Cleaning is quick and simple.
Options The IGT Ink Pipette is recommended for applying ink to the top roller as this significantly increases the accuracy of the ink application.
| | |
| --- | --- |
| testing printing quality, gloss, mottle and set-off | visual appraisal; colour matching and measuring colour with colour measuring systems and spectrophotometers |
| taking density measurements including colour and density tolerances, degree of coverage, wear resistance, scratch resistance | flexibility, adhesion and gloss, ink transfer (in g/m2), light fastness and resistance to chemicals |
| printing ink, paper and board, print, metal, plastics and packaging, resin, lacquer, coatings, cosmetics and electronics industries | |
| | |
| --- | --- |
| consist of an inking section and a printing unit | The two driven aluminium drums and a removable rubber top roller evenly distribute the ink within 30 seconds and the printing disc has an inking time of 15 seconds |
| The substrate is attached to a substrate carrier, which also acts as a printing disc mount during inking | The printing force can be set in 19 steps between 100 and 1000 N and the print is made automatically |
| | |
| --- | --- |
| Inking section | Total inked area 720 cm2 |
| | Short cleaning time |
| | Aluminium drums, independently driven |
| | Special nickel-plated drums are available for UV applications which prevent dust collection from static |
| Printing section | Two types of rubber top rollers are available for conventionally dried and UV-cured inks Printing speed 0.3 m/s Printing force 100-1000 N |
| | Independent drive Printing disc is automatically brought to pressure, printed and lifted; it can also be raised 4 mm to accommodate thicker substrates |
| | Print directly onto beverage cans is possible via special impression cylinders of various diameters |
| All with a printing length 200 mm | Weight < 160 g for most of the available discs |
Physical specifications
650 x 400 x 300 mm (W x D x H); 35 kg; 115/230 V, 50/60 Hz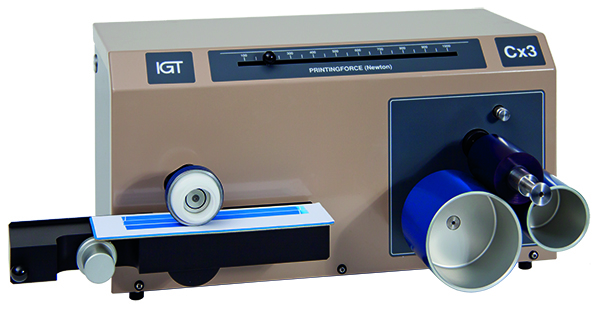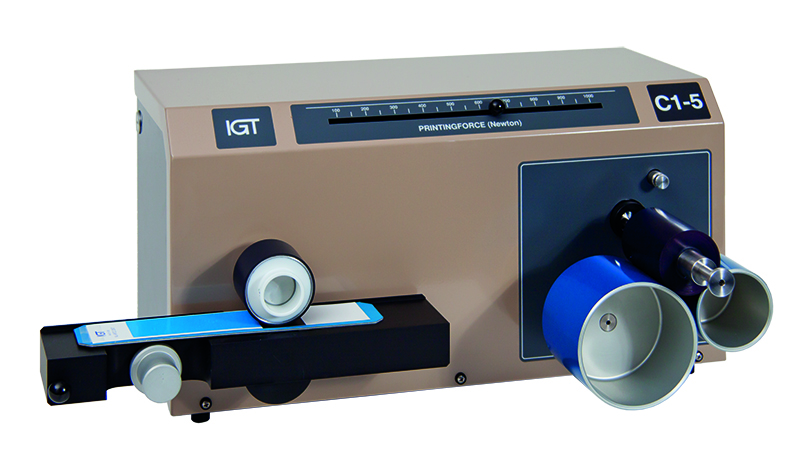 Information About Cleaning Solvents for IGT Printing Discs and Top Rollers
Click here »