Rycolab Vertical Tensile Tester
Determines force, tensile resistance, elongation & tensile energy absorption in paper and tissue.
Applicable standards ISO 1924/1, ISO 1924/2, ISO 12625-9, UNE-EN ISO 12625-5, UNE-EN ISO 527-3, TAPPI T456, T494, T549, BS 4415/2, DIN 53 134, etc.
Easy operation touch screen and clear Start / Stop control buttons. Internal software has pre-installed tasks including standard 100mm tensile test for 15mm or 180 mm strips.
Manual clamps are supplied as standard with pneumatic clamps as optional. The maximum distance between the clamps is 300m, Test speed adjustable between 0.2 and 330mm/min.
RS 232 interface and USB port for maintenance work and printer connection.
Test description
The test is chosen on the touch screen. Clamps automatically move to the start position and the sample is clamped between the upper and lower clamp. On pushing the Start button, the upper clamp moves and the test sample is stretched until it breaks. The clamps automatically return to the start position after the test.
Force, elongation, curves, statistic with max, min, mean and the standard deviation are displayed on the touch screen and can be instantly printed.
Pre-installed with tests as described in the standards, company specific tests can also be added. All parameters such as testing speed, testing length, breaking- and preload levels can be adjusted individually.
| | |
| --- | --- |
| Easy to operate touchscreen controls | Sample width: 15,5mm or 50mm (selectable) |
| Sample length: 100 mm (ISO 1924-2 & 3) or 180 mm (ISO 1924-1) | Sample length can also be selected between 50mm and 250mm |
| Automatic return to starting position after sample break | Test approach speeds between 0.2 and 750mm/min. |
| Measuring range from 0 to 1.000 N or 0 to 5.000 N | Max travel between clamps: 500mm & 750mm |
| Screen display of results incuding tensile force, elongation, breaking length | Accuracy: < 1% of the applied force |
| Resolution: Force: 0.004%, Travel: ±0.01 mm | RS 232 and USB connection |
| Windows based software | CE mark |
| | |
Dimensions & Connections
Net Width: 480 x 600 x 900mm (WxDxH)
Net Weight: 45 Kg
Electricity: 110-230 V, 50-60 Hz AC
Air: 600 kPa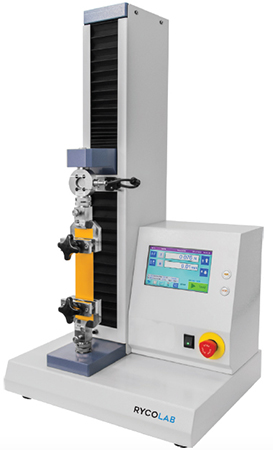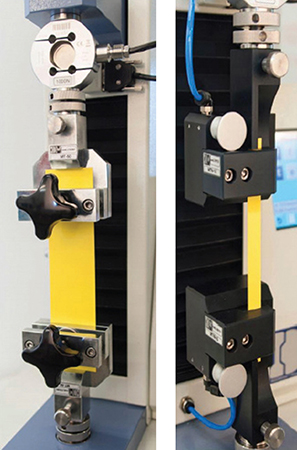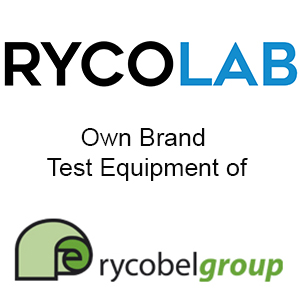 Rycolab – Rycobel
Rycobel's own label range of high quality test instruments.
We have represented Rycobel in the UK and Ireland since 1995.
Service & Repair - we provide access to Rycobel's technical services through regular on-site service tours and a 'return to base' option for repair, service and calibration.
For more information, contact us via 01223 492081, or sales@tendringphysicaltesting.com