Vapometer Permeability Cups
Measures water vapour transmission rate through sheet materials
A simple gravimetric test for determining the water vapor permeability of sheet materials, such as specialty paper grades, polyethylene, building material, leather, weather­proof clothing, vinyl, foil, laminates and other thin sheet materials.
Complies with ASTM E96-80, TAPPI T-448, TAPPI T464 os-79.
The EZ-Cup Vapometer is a light weight aluminum cup with an aluminum threaded flanged ring + two neoprene gaskets and a Teflon seal, that hold the specimen in place. This design elimi­nates edge leakage and provides fast, secure sealing of the specimen between the gaskets.
Diameter 2.5 in (63.5 mm). Suitable for samples up to 3mm thick and can be used at any temperature, or relative humidity, to ensure product performance across different conditions. A selection of cup depths is available.
Standard Water Vapour Method
Depending on the end use, water, or a desiccant, is placed in the base of the container. The specimen is then quickly sealed, with the threaded flanged ring between the two neoprene gaskets, and placed in a test chamber that con­trols the atmosphere. Vapor loss, or gain, is measured by re­cording the weight of the sample at successive time intervals. The cups are serially numbered for an easy way to keep track of the different samples.
Sample Preparation
Accurate circular samples 2.9375″ diameter (74.61 mm) for the Va­pometer can be quickly prepared using a Circular Steel Die with the 240-7B Alfa Cutter.
| Size in inches (mm) | Weight (grams) |
| --- | --- |
| 2.0" (50.5 mm) | 153.4 g |
| 3/4" (19.05 mm) | 127.7 g |
| 1/2" (12.7 mm) | 123.3 g |
Vapometer Fuel Permeability Cups for SAE J2655
This is the test procedure for measuring the fuel permeability of materials by the cup weight loss method, through test samples of elastomeric, plastic, or composite materials, up to 3mm thick.
The fuel permeability model 68-3014 includes: x1 EZ Cup Vapometer Model 68-3000 with 2.5" internal diameter x 2" deep; x1 gasket 3" outside diameter, 2.5" inside diameter x0.031" thick;  x1 gasket 3" outside diameter, 2.5" inside diameter x0.062" thick; x1 wire mesh screen;  x1 Teflon top ring
For further information, please contact our sales team on 01223 492081 or via sales@tendringphysicaltesting.com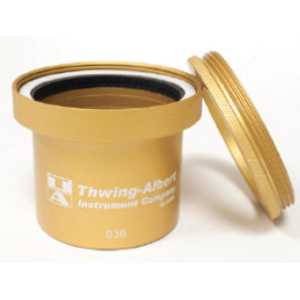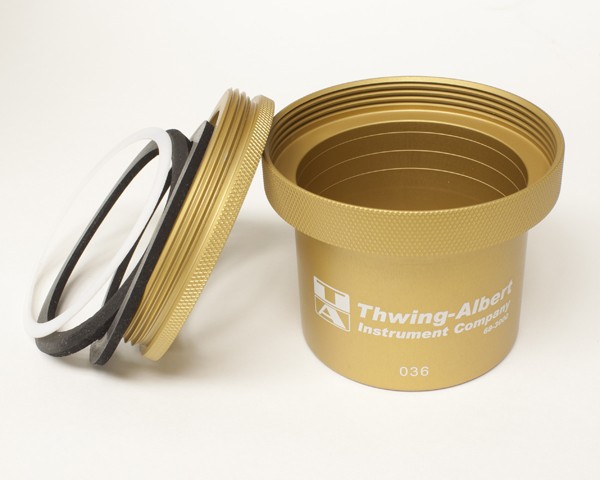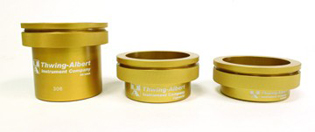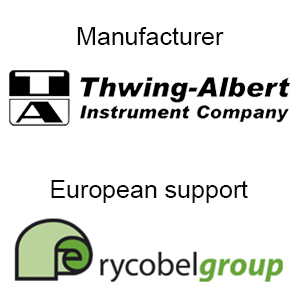 Thwing Albert – Rycobel
Rycobel is the European support centre for several respected instrument manufacturers. We have represented Rycobel in the UK and Ireland since 1997.
Service & Repair  We provide access Rycobel's technical services through regular on-site service tours and a 'return to base' option for repair, service and calibration.
For more information contact us via 01223 492081 or sales@tendringphysicaltesting.com