Handle-o-meter
Objectively measures the "Handle" of sheet materials
Manufactured by Thwing Albert. Handle is a combination of many properties including friction, stiffness, thickness, softness and compressibility. Primarily used for tissue, non-wovens and textiles.
A unique testing machine for objectively measuring the "Handle" of sheet materials.
Handle is a combination of many properties including friction, stiffness, thickness, softness and compressibility. It is the combined effects of flexibility and surface friction of sheeted materials, such as paper tissue, paper towels, non-wovens, plastic film, towelling, textiles, gauzes and light fabrics.
Complies with Test Standards: ASTM D 2923 & D 6828.02; TAPPI T 498; INDA IST 90.3, EDANA WSP 90.3
Operation
The test sample is placed over an adjustable slot that extends across the instrument platform. A penetrator beam then pivots on a cam, engages the sample and forces it into the slot. The resistance encountered by the penetrator blade as it moves into the slot is measured and digitised for analysis.
Stiff materials offer greater resistance to the motion of the beam as it moves into the slot. Rough materials also exert resistance as they are dragged over the edge of the slot. The combined resistance is the reported result.
Two interchangeable beams are available and offer the necessary versatility for testing different materials. With auto-ranging, the Handle-O-Meter detects the beam in use and adjusts the range and resolution accordingly.
Test modes can be easily set via the Touch Screen for single, double or quadruple measurements. The mean value is automatically calculated for the double or quadruple testing modes. The software enables the quantitative analysis of the test results ( average, standard deviation & high and low values.
| Features | |
| --- | --- |
| Touch Screen Control | 2 x 40 LCD |
| Adjustable slot openings of 5, 6.35, 10 and 20 mm | Interchangeable beams of 100 and 1000 g |
| Statistical analysis with MAP – 4 Software | RS-232 and serial ports |
| Advanced software computes and displays qualitative analysis of the test results including averaging, standard deviation and the high and low readings of a series of tests | Auto-ranging |
| Options | |
| Teflon Coated Plates – used primarily when testing plastic film to reduce static friction | Serial Printer – a formatted report showing test results & statistical analysis can be printed on demand |
| Chart recorder – an electronic strip chart recorder to producing a hard copy of test results | MAP-4 Software – Windows based for installation on a PC. Capture and analysis of test results in real time. |
| | |
| --- | --- |
| Technical Specifications | |
| Measuring ranges and resolution Standard : 0 – 100g x 0.1g Heavy Duty: 0 – 1000g x 1.0g | Slot opening 5 &10 & 20mm and ¼ inch |
| Display 2 x 40 LCD digital display | Power requirements 220V +/- 10%, 50Hz or 110V +/- 10%, 60Hz |
| Physical Specifications | |
| Dimensions: 368mm (D) x 587mm (W) x 229mm (H) | Gross Weight: 24.5kgs  Net Weight: 22.2kgs |
For further information, please contact our sales team on 01223 492081 or via sales@tendringphysicaltesting.com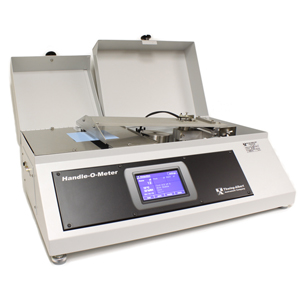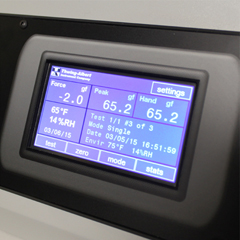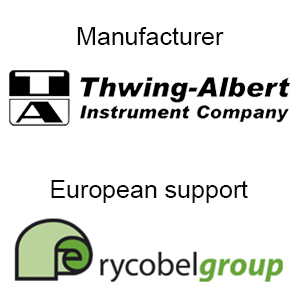 Thwing Albert – Rycobel
Rycobel is the European support centre for several respected instrument manufacturers. We have represented Rycobel in the UK and Ireland since 1997.
Service & Repair  We provide access Rycobel's technical services through regular on-site service tours and a 'return to base' option for repair, service and calibration.
For more information contact us via 01223 492081 or sales@tendringphysicaltesting.com